VIDsigner increases agility and operational flexibility by eliminating the need for buyers and sellers at different locations and times to coordinate to complete sales transactions. In addition, the electronic signature guarantees total transparency for all parties involved in the process of buying, selling or renting a property.
Real estate companies that manage numerous contracts related to their real estate portfolio on a daily basis can benefit from the integration of VIDsigner electronic signatures with SAP by obtaining the signature of their documents within the SAP Real Estate Management solution.
Benefits
Immediacy in closing sales
Improved customer satisfaction
Reduction of face-to-face processes
Electronic signature through any device and without the need for technological knowledge.
Possibility of integration within a CRM allowing for greater productivity and coordination
Main use cases in real estate:
VIDsigner offers handwritten signature services on tablet (BIO), remotely with a smartphone (REMOTE), by personal qualified certificate (CENTRALIZED), or reliable communications by email (E-Delivery). Real estate companies using VIDsigner get 99% of their contracts digitally signed.
The most common uses of signing documents that you can perform as a real estate agency are signing contracts, reservations, earnest money, purchase and sale, rental, lease and exclusivity. We can divide this large amount of documents into 3 main sections: leases, sales and purchases and internal documents.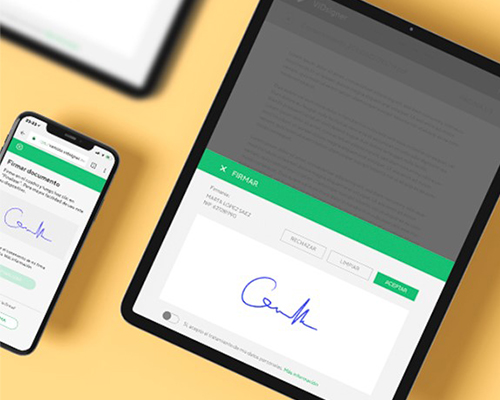 Rentals
Within the rentals section, its main use is focused on notifications of renewals and termination of contracts to tenants. The digital signature also speeds up the transfer of powers of attorney, the registration, cancellation and changes of ownership of water, electricity, telephone, internet connection, natural gas, etc. contracts for the property. We also have the signature of home insurance for tenants, authorization to request tenant references, communication of non-payments, payment authorizations (SEPA mandates). Having an electronic signature service is a real advantage that optimizes document archiving and search and makes document management a more secure process.
Buying and selling
The sale and purchase process includes a large number of documents such as sales orders, contracts for the publication of advertisements on real estate portals, property viewing reports, home inventories, home insurance, terms and conditions, agreements with third parties, acceptance of offers and counter-offers. The electronic signature of documents facilitates access for consultation, increases the guarantee of security and improves the management of information on each property.
Internal documents
In addition to signing documents related to sales and rentals, real estate agencies, on a daily basis, work with a multitude of internal documents of all kinds, such as financial, commercial, human resources, legal documents, etc.